Three-four minutes and then it is ready. This is the time it takes – provided that it is not too busy – to drive into a car wash and enjoy that the car is reborn in the jungle of automatically working brushes, sprinklers and blowers. What is more, you can even choose from various car wash programs. But what shall those do who like to meticulously clean the exterior of their own cars? Those also have several options to choose from, furthermore, the extended work requiring human strength can sometimes become a really entertaining activity – especially in terms of the end result. In our current blog entry, we will now take a look at the most important steps related to polishing.
Car polishing at home: before you begin
Polishing is an outdoor activity: we have more place outside, and before the whole process, we can check the surface of the car in the bright light, where the defects are. We can even mark the surfaces or scratches that we consider to be problematic.
Just like in case of painting a wall, we cannot start polishing until we clean the surface of the car to be polished. It is important to remove even smaller impurities from the car that hide in the paint – this process can be done by a thorough automatic wash or, in case of hand-washing, by a clay bar designed specifically for this purpose or by a car cleaning product, such as shampoo.
Let us polish!
After the diligently conducted cleaning, it is now time for polishing. This is a job of lot of fiddling, but it is worth paying attention because our work will sure have results as for the paint job of the car. The secret of polishing is progressive work: first, we go for deep scratches, then for medium ones, and finally for fine scratches. We will need the appropriate polishing paste for all three types.
There is a wide range of products in this regard for those buyers who would like the best for their cars: for example, the product family of the white 3M™ Finesse-It™ polishing paste was specifically designed for paint repairs by OEM and in furnaces, to remove scratches and abrasion and to create anti-peeling and hologram-free surfaces. It is recommended to apply circular movement, but the process is significantly faster if we use a polishing machine. For example, 3M™ electric polisher. The secret of polishing done with human force is that we have to apply smaller force on surfaces with fine scratches, while in case of rough scratches, we can increase pressure.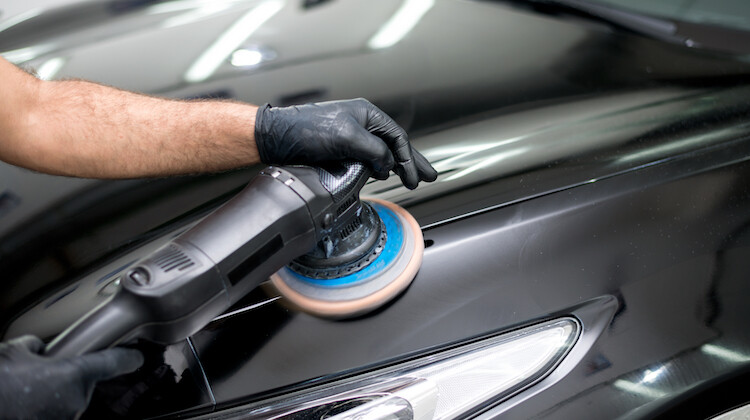 People having more experience in polishing warn not to get a jump on this process, which means we can do this job with the highest efficiency if we are patient, move slowly and continuously focus on the result. It is even possible that we first conduct a kind of test polishing on a smaller surface to learn the process because that way, we can start the job that requires significant time and attention more safely. One of the tools that is perfectly suitable for this purpose is the white synthetic 3M™ Finesse-it™ wool polishing pad. This is made of loose, prewashed wool fibers of 17 mm.
The waxing
Usually polishing means the hard work, while waxing means less hassle. Waxing is the crowning moment of our previous work: it means the preservation of the polished surface with a waxy protective coating that is applied onto the paint job. Wax needs to be applied in one layer as thin as possible, and after about half an hour, we can remove the amount of surplus.
By completing the job, we can have a good feeling because we can be sure as a result of our activity that dirt will not stick to the waxed surface to the extent before and we should not worry about corrosion either. Of course, there can be a big difference between two types of wax. However, many consider their car as a moving jewelry case, so it is not uncommon that they decide to buy carnauba wax, which is very expensive but provides an excellent layer. The use of a special microfiber cloth produced specifically for this purpose can further increase efficiency.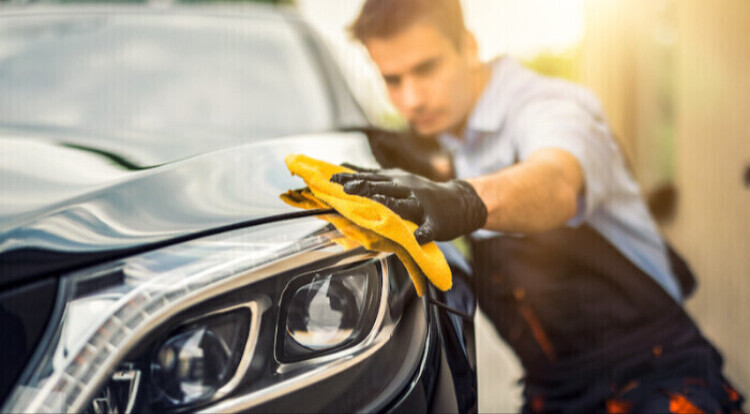 The 3M™ Polish Rosa Wax means a good choice for waxing, which does not discolor black rubber components either.
Real professionals, who say that car polishing at home is not a child's play, and it should be taken seriously, wear special clothing and use protective eyewear. For this latter purpose, a 2890 type of closed protective eyewear can be used because it has an anti-fog layer that provides better visibility conditions. By the way, protective eyewear: in one of our previous blog entries, we have already covered the types of protective eyewear.
If the weather is good, it is worth trying to polish!