According to a recently published statistic by the Hungarian Central Statistical Office, two-thirds of fatal accidents at home are caused by falls, slips and stumbles. Creating a safe environment both inside and outside the home is vitally important, and with the optimal precautions, unfortunate accidents can be easily avoided. Indoor and outdoor anti-slip tapes play a very important role in protecting ourselves. Let's see what you need to know about it!
Indoor and outdoor anti-slip tape
The purpose of the indoor and outdoor anti-slip tape is to make it safe to walk on slippery surfaces in rainy weather, during snow and when the surfaces are wet. For children and elderly people, it is particularly difficult to move safely in such conditions: maintaining balance is a real challenge. These anti-slip tapes help to prevent slips and fall by preventing the foot from slipping.

An anti-slip tape is attached to the pavement with the help of a self-adhesive surface. It is typically based on a highly elastic PVC tape with layers of aluminium oxide crystals in varying amounts, depending on the type of the tape. These crystals form a rough, scratch-resistant, abrasion-resistant layer that prevents slipping.
Where to place the anti-slip tape?
Generally, wherever the surface material makes it necessary. These tapes can be used both outdoors and indoors. They are most used on stairs and ramps, but they can also be used on a flat horizontal surface if the surface becomes slippery on its own or is constantly in contact with water. They can be applied on the surface of marble, artificial stone, wood, various types of ceramics or even smooth concrete.
Anti-slip tape for all needs
Different types of anti-slip tape are the best choice for different situations. With so many types available today, it makes a difference which rolls you put in your virtual shopping basket or pick up off the shelf at the store. Let's look at the most common types!
Tape and sheet
The non-slip surface of the cover can be achieved by using self-adhesive tapes and sheets. The properties of tiles and tapes are the same, so the circumstances and the size of the surface would mostly decide which version is the better choice.
From normal to extra roughness
Normal gauge tapes are easy to apply and very durable. As PVC sheets form the basis of the tape, they do not become soggy when exposed to moisture. There are three levels of material roughness - normal, enhanced, and extra. The characterisation of the risk factors determines which one to choose.
Where there is normal pedestrian traffic, a standard grade of tape is sufficient. Of course, a coarser version can be installed, but it is less wear-resistant and will need to be replaced in a shorter time.
Such tapes can be applied to stair surfaces, scaffolding, ladder rungs, entrances, various types of machinery and vehicles to make the surface safer to walk on.
The extra-roughened ribbon is best used in places where the size of the crystals on normal anti-slip strips is insufficient, for example on ramps where large machines or forklifts are used.
Rubber-based materials
Rubber and medium elasticity tapes are most often used in swimming pools, spas, bathrooms, and showers. They are medium grooved and perform particularly well in wet environments.
The tapes can be applied to both indoor and outdoor surfaces, although care should be taken to ensure that the tape is applied to surfaces with temperatures above +10C°.
Surfaces based options
The advantage of aluminium-based anti-slip tapes is that they are much easier to adapt to the characteristics of the surface. This is most often used when the floor surface is metal, which is most often the case in industrial environments.
Their application is as simple as that of plastic (PVC) based tapes: thanks to the self-adhesive design, they are simply smoothed over the metal surface, then pressed down and smoothed to the pattern.
Colours for safety indication
Self-adhesive anti-slip tapes can be coloured to warn of danger or potential risks. If the highlight of the surface is important, a black and yellow stripe colour combination is a particularly good choice, as it indicates to passers-by that they should proceed with extra care and caution.
Transparent options
You may have a nice, special floor surface that you don't want to cover up with anti-slip strips, but you still want to provide some form of safety. Luckily, anti-slip tapes are also available in transparent designs, so you don't have to sacrifice safety for aesthetics.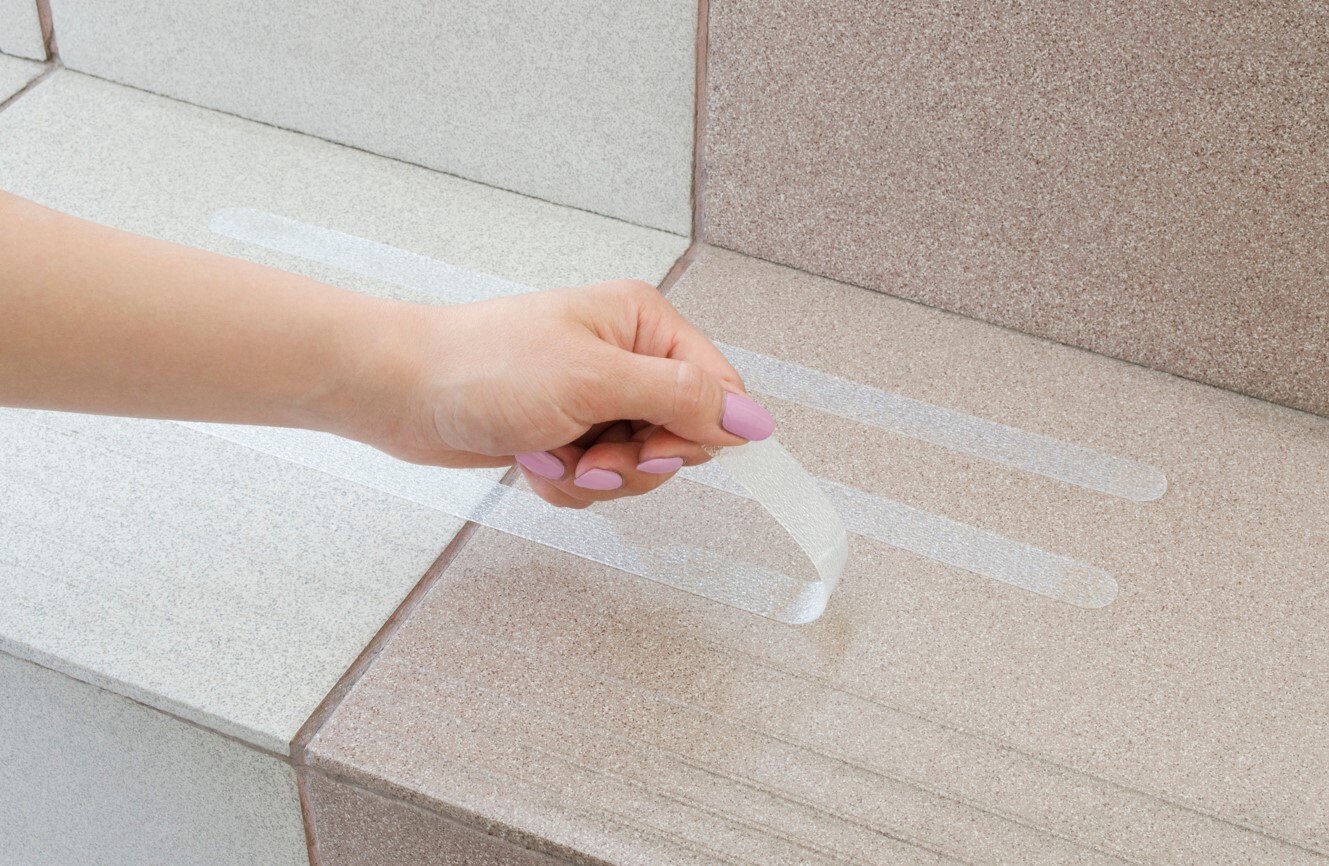 Phosphorescence options
There are also greenish glow-in-the-dark ribbons that "fill up" in daylight and help you find your way at night with their greenish-yellowish light. These are particularly useful in places where you often must travel in the dark or dim light.
Weak adhesive options
There are also versions of anti-slip tapes with a weakened adhesive strip. This has the advantage that it leaves no marks, and the surface remains clean once the tape has been removed. However, it has the disadvantage of being less durable. For this reason, they are recommended for use in cases where the surface is sensitive and only a temporary non-slip surface is required.
Tape on aluminium sheet
There are cases where it is not advisable to choose self-adhesive tape because of the material of the surface, for example, if you want to apply non-slip tape to a staircase with a grid. In this case, the ideal choice is anti-slip tape applied to aluminium sheets, which can be fixed to the surface with screws.
Anti-slip tapes are designed to make traffic safer for both people and machinery. They can be used in both residential and industrial environments, and even in the home, where they are easy to install, to ensure the safety of the family.